World-famous rapper T.I. will appear in a federal courtroom Friday for sentencing on weapons charges related to purchasing machine guns and silencers.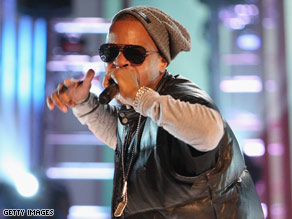 T.I., whose real name is Clifford Harris, has mentored at-risk students as part of his community service.
T.I., whose real name is Clifford Harris, is expected to be sentenced to one year in prison and be ordered to pay a $100,000 fine, under the terms of a plea agreement reached with authorities last year.
The agreement allowed Harris to remain out of prison for a year while he performed 1,000 hours of community service.
In that time, Harris has completed his hours by mentoring at-risk students at 58 schools, 12 Boys & Girls Clubs, nine churches and many other nonprofit organizations, according to court documents.
Meanwhile, the rapper has released his sixth CD, "Paper Trail," which has sold close to 2 million copies, according to Nielsen SoundScan.
Harris recently talked to CNN about learning from his mistakes.
"You shouldn't take the things that I've gone through and the negative parts of my life and admire me for that," Harris said. "If anything, admire me for how I've accepted responsibility for the part I've played in placing myself in these situations and what I've done to recover from it."